Raised Bed Number 2.5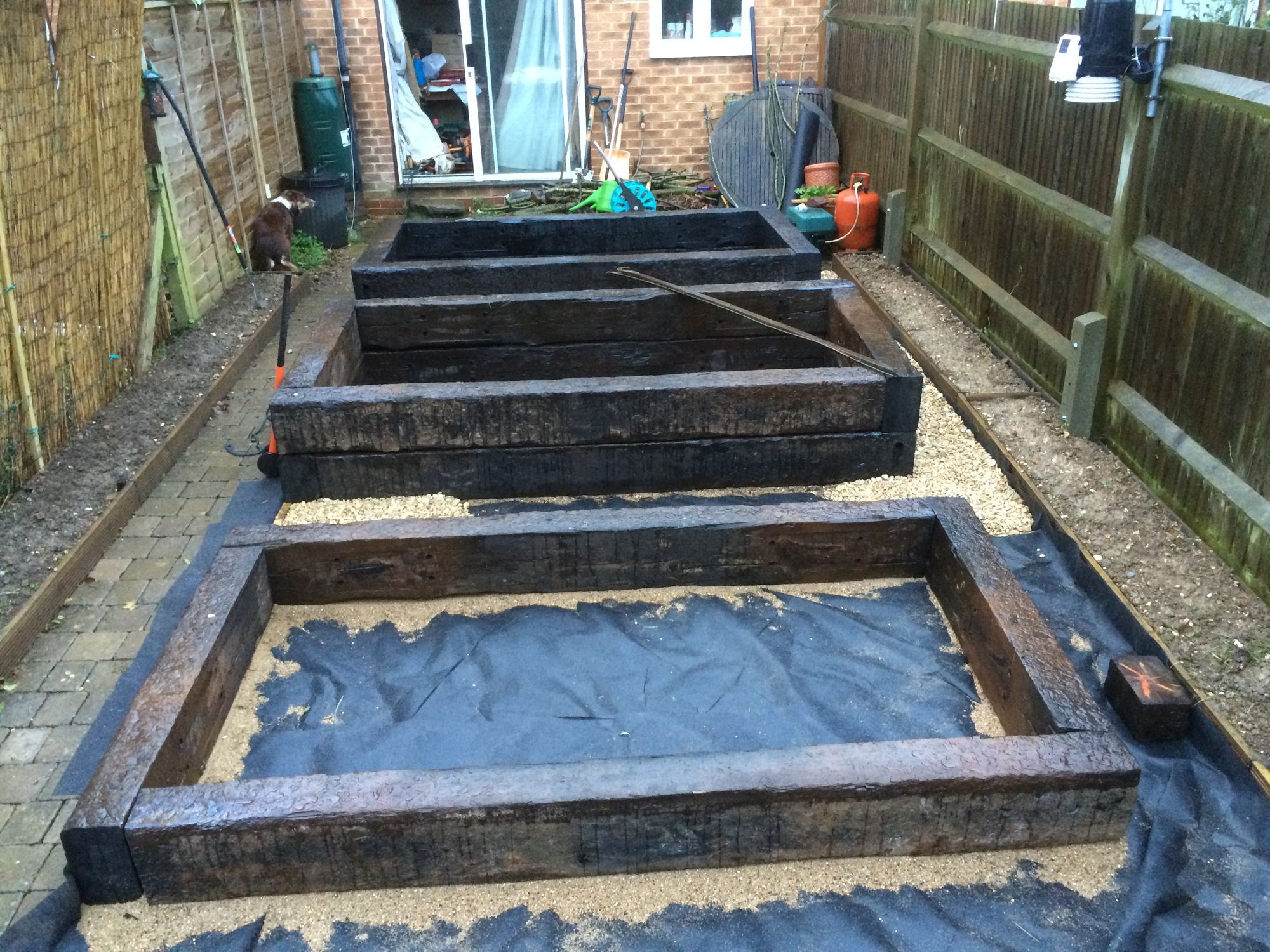 Another Saturday means another chance to work in the garden :-)
This time we finished off the second raised bed by swapping the extra tall sleepers for a shorter one. And started on the third. However rain stopped play in the afternoon. It's not that we mind working in the rain, it's just that we didn't 't really fancy a trip in an ambulance to A&E, that being the fate that is reserved for people who persist in using power tools in the rain. Yep, that's right, we need the circular saw and the meaty power drill to cut and secure the sleepers so work in the garden had to be cut short :-(
Timberlok screws
The good news is a friend gave us some new bolts to use to screw the sleepers together - 250mm FastenMaster Timberloks. The big advantage these confer is no pre-drilling. Using the 150mm coach screws we've been using up until now mean that we have to drill halfway through the sleeper with an 30mm auger and then the rest of the way through with a 7mm auger. That counter sinks the screw enough that it can bite into the other beam. The Timberloks however, are 250mm long and self tapping so you just screw straight through the first sleepers into the second. Much faster, but you do need a beefy drill to drive them all the way in, and it's a good idea once you've started not to stop in case the screw bonds and sticks. Fortunately we have a Bosch SDS drill which was well up for the job :-)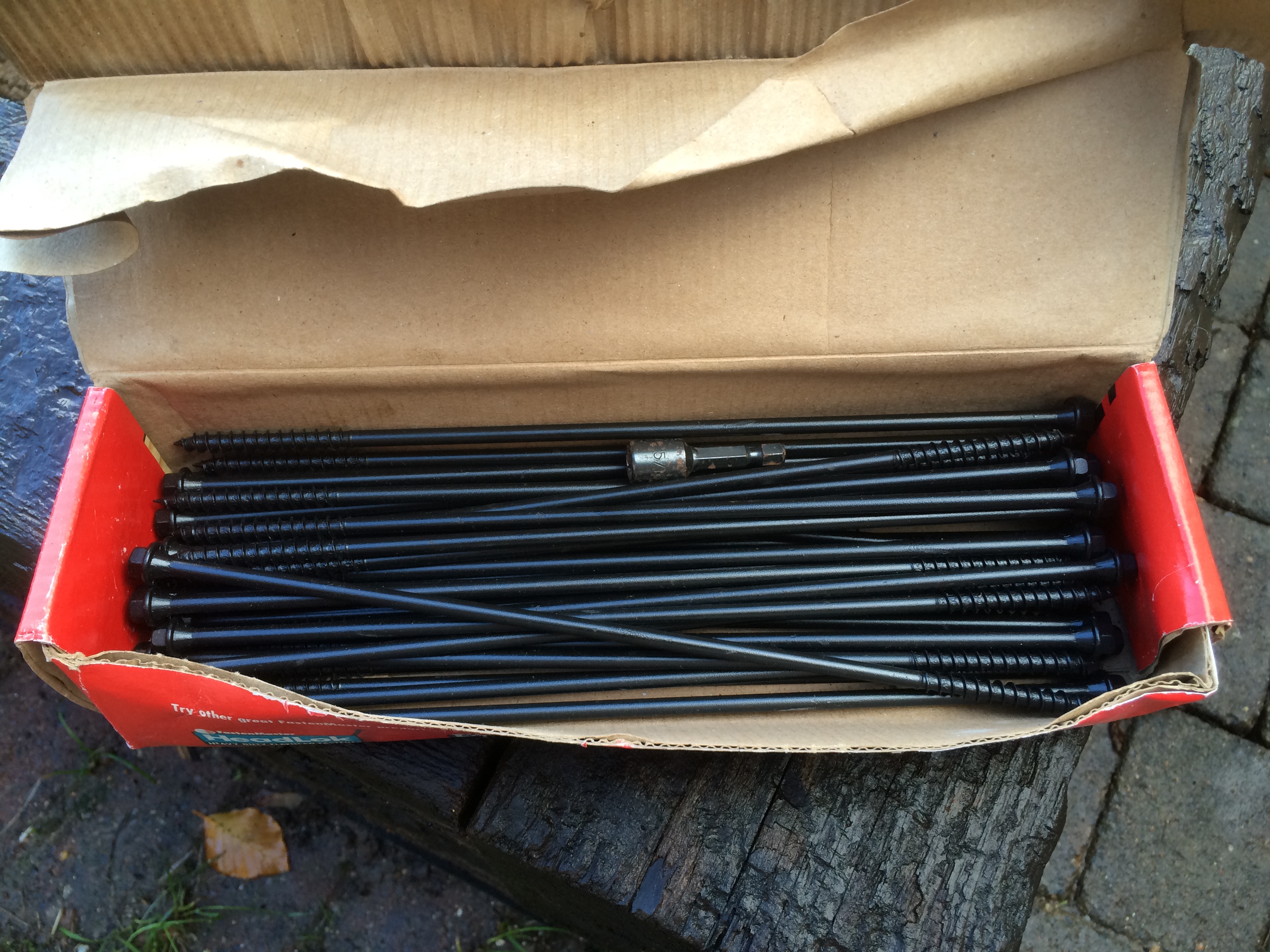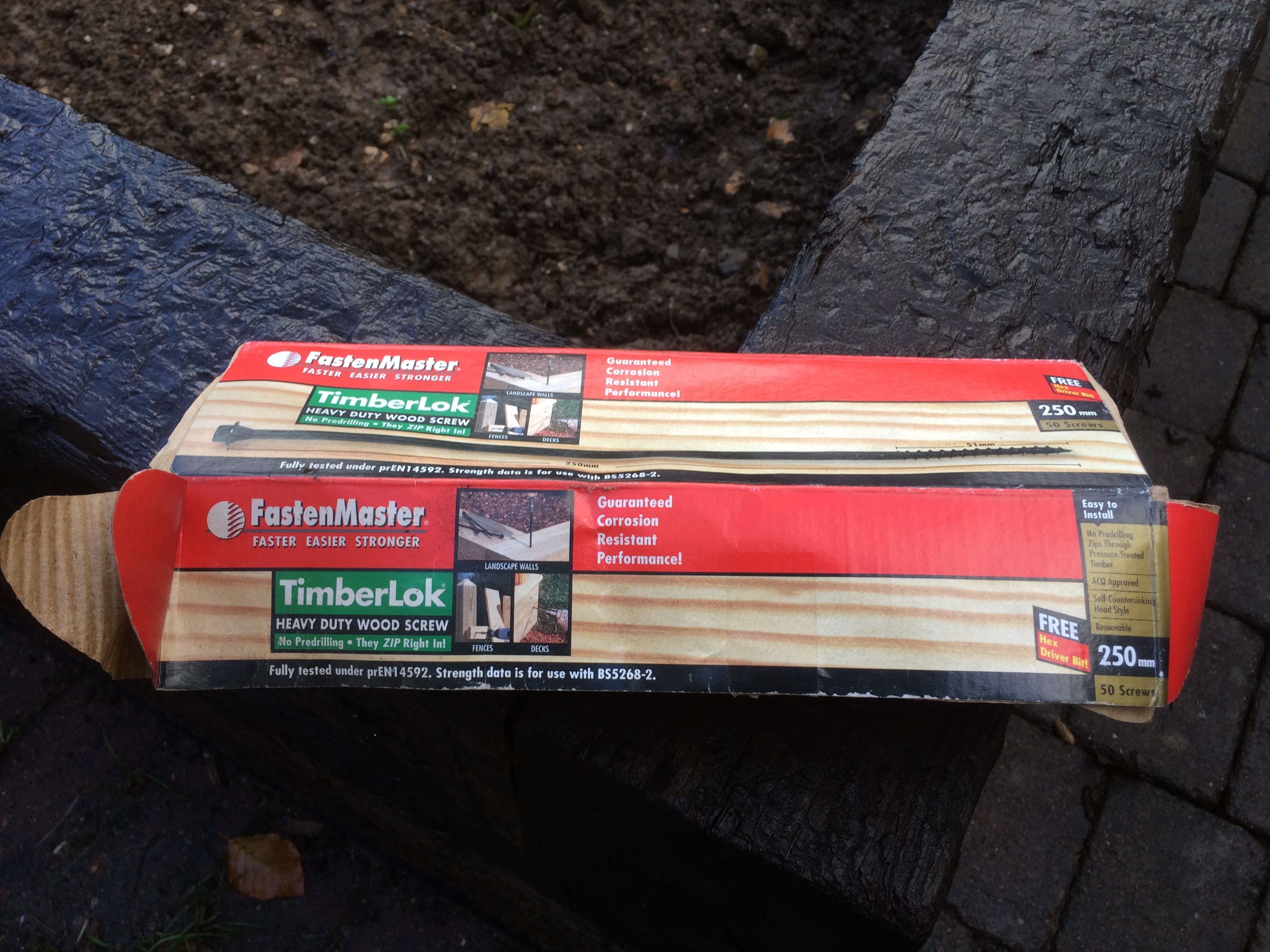 Actually we'd already seen these advertised on the web when we were initially researching raised beds building techniques. But they were expensive and we didn't want to try them in case they didn't work. That would have been an expensive mistake to make. The nice thing about friends is they give you the rest of the packet they bought with the suggestion that you try them out and just replace them if they work for you. Friends are wonderful things :-)
The good news is they actually worked very well, very well indeed. And given that you don't need to do any pre-drilling, they're much faster. That's the good news. The bad news is they cost about about a pound a bolt, rather than the 50p a bold the coach screws have been costing us.
Leveling the sleepers
Although we've mentioned that we level the sleepers when we lay them, we haven't put a picture up of the process. So here's one now :-)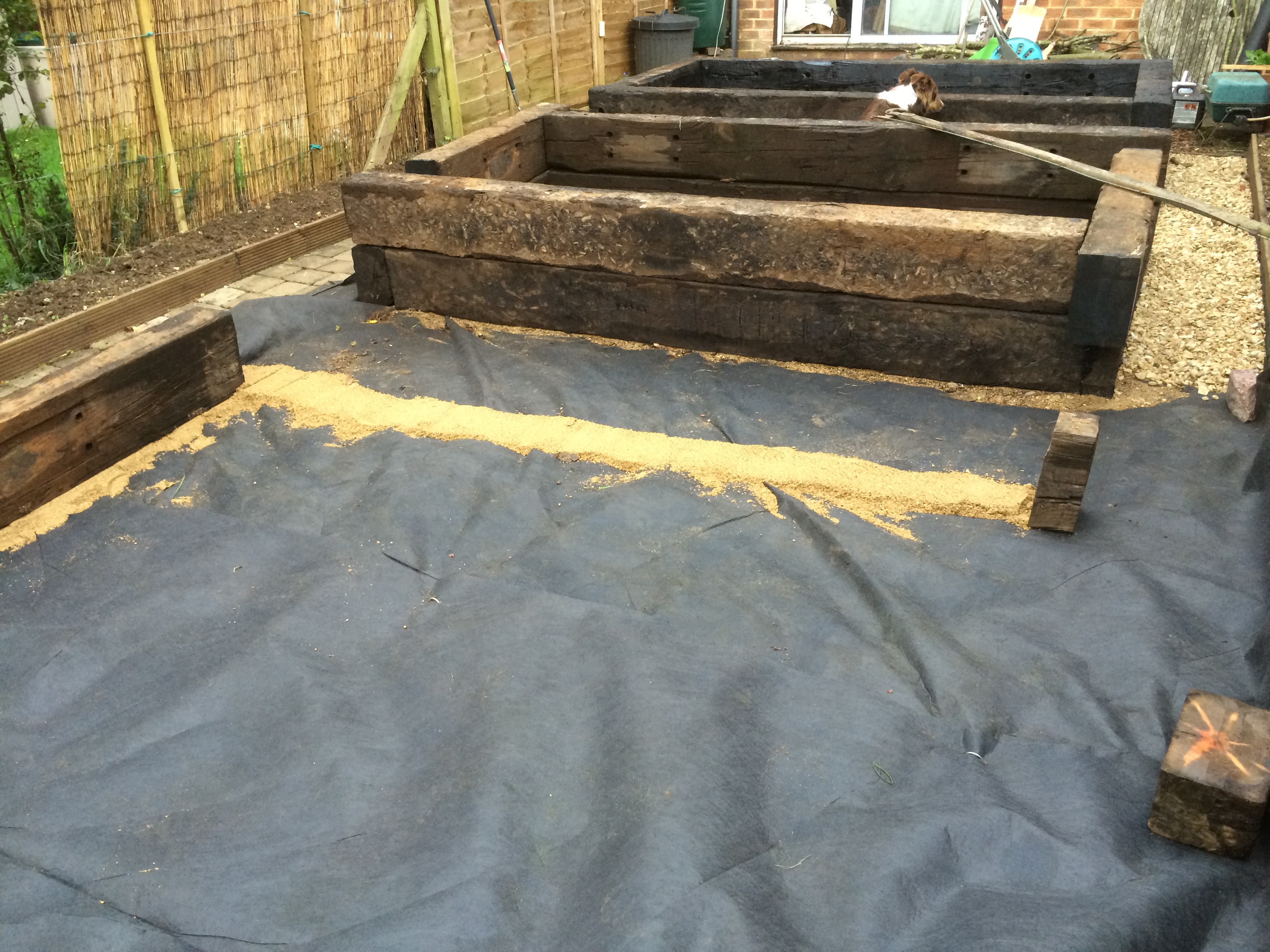 Leveling isn't difficult. We just put a layer of sand down and then bed the sleepers down on it. If we need to lower one end we just wiggle it back and forward a bit. If we need to raise one end up we just put a bit more sand underneath. It's probably not essential for what we're doing here, but it doesn't hurt :-)
Where we are now ...
So after a mornings work this is where we are ...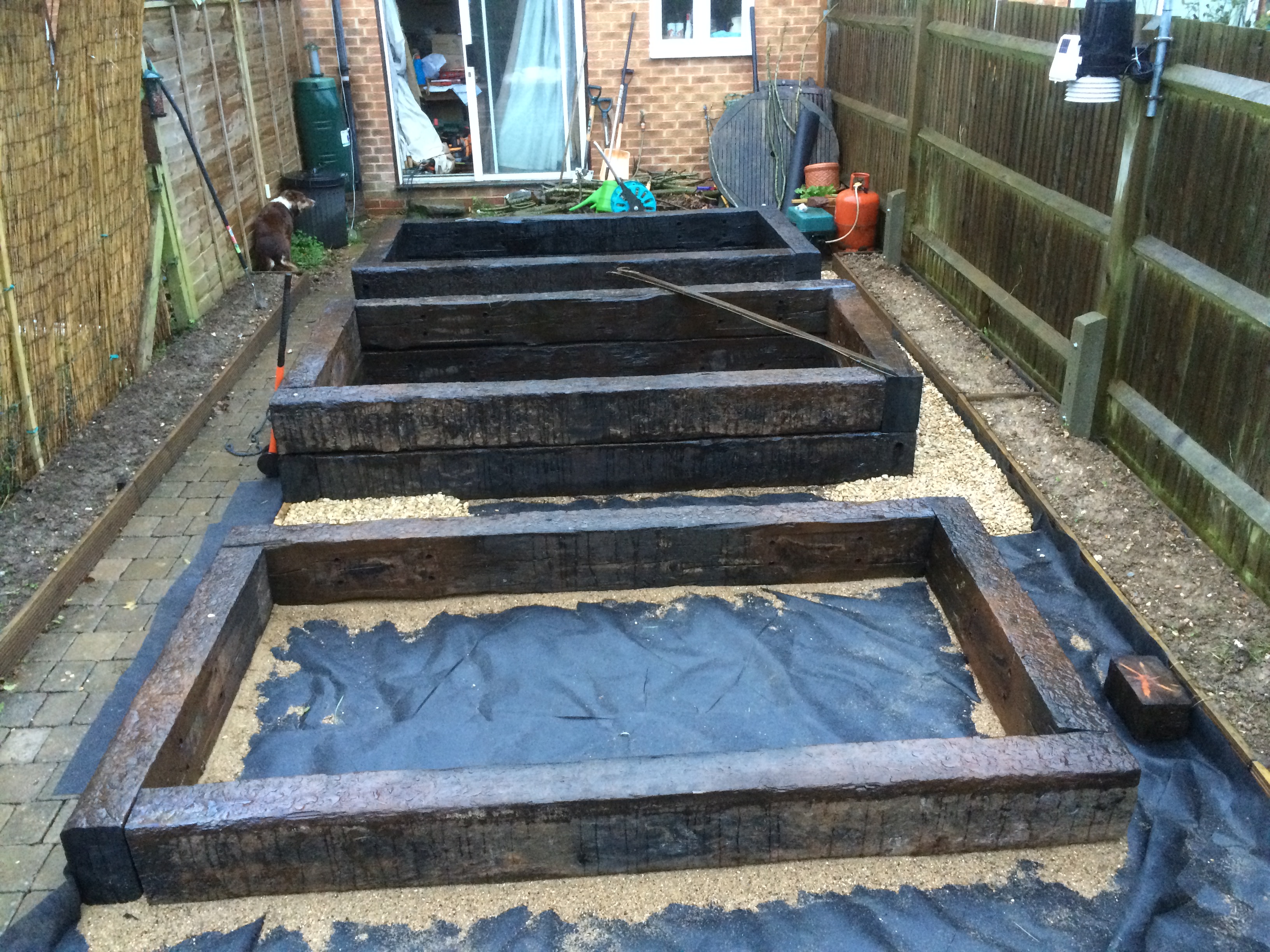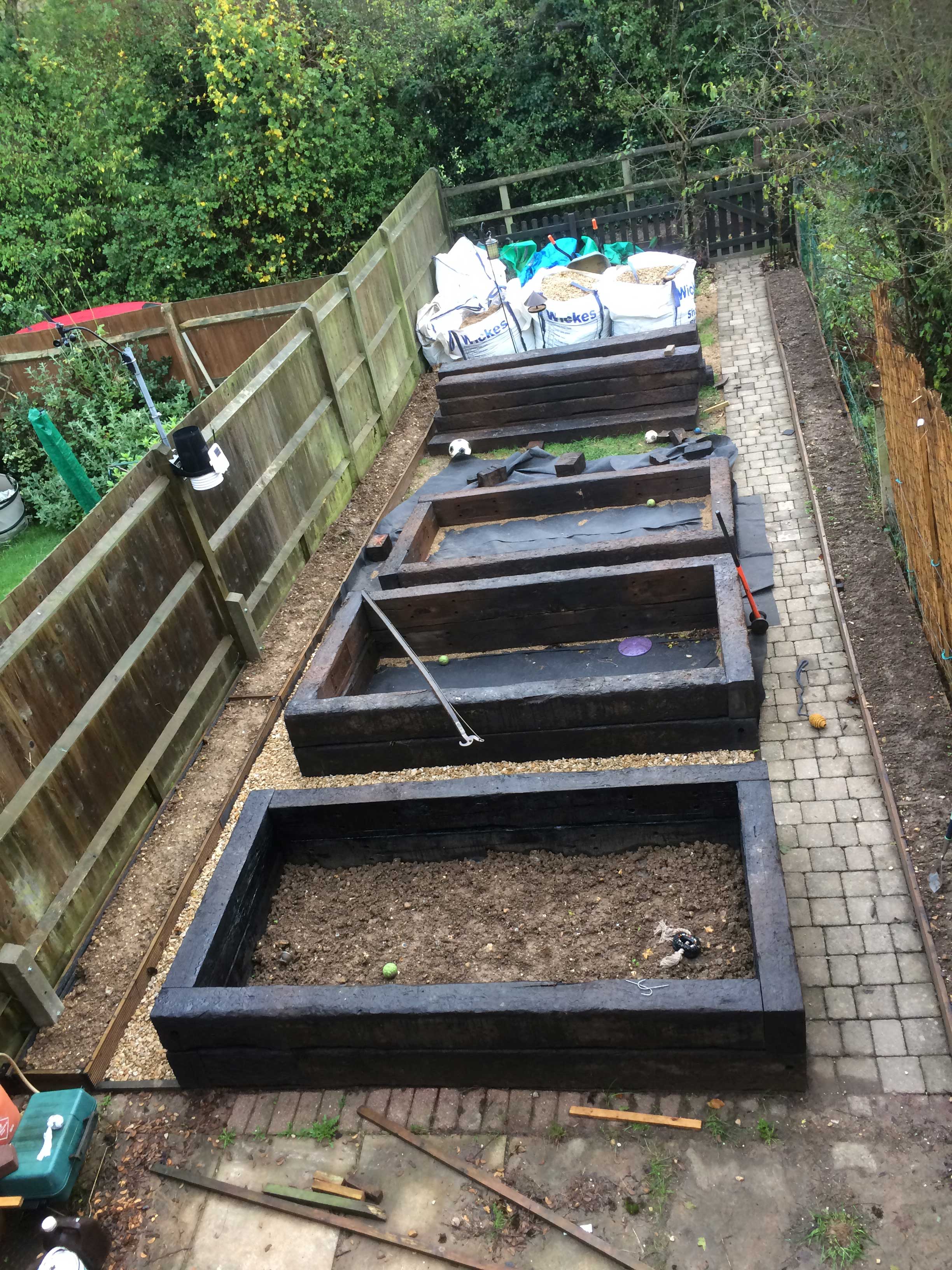 Stay tuned for our next excitng episode :-)